Last week I was given the opportunity to attend the launch of VTech's latest gadget, the InnoTab, dubbed the 'new iPad for kids'. I thought this new release would be a fantastic replacement in the quest for winning back our iPad. Considering it has been adopted by Beastie and you might agree, is a rather expensive toy for a 2 year to monopolise because of his obsession with Mr Tumble. What is great about the InnoTab is that as well as entertaining our little ones it is designed to teach them at the same time and provide developmental benefits.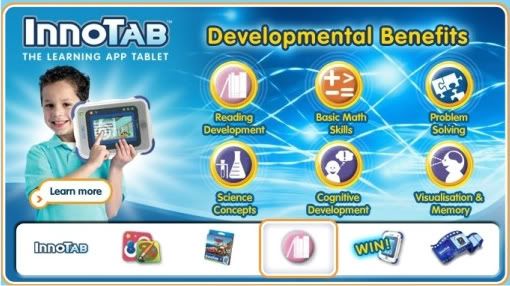 Aimed at 4-9 year olds the InnoTab is a multi-media learning handheld combining educational games, creative activities and e-books on a multi-functional touch screen tablet. Children can develop core skills in reading, spelling, maths, logic and creativity with the many included activities such as an e-reader, art studio, interactive globe, video player and photo viewer. The Kiddizoom from VTech is compatible with the tablet which is a great feature for budding photographers. It features a 5 inch LCD touch screen and g-sensor for fun game play. Parents can also download additional games and learning apps from their computer to add to the tablet.
The event was held at the lovely Covent Garden Hotel and I got the chance to meet up with some fellow bloggers such as Not Yet a Yummy Mummy, Multiple Mummy, Mummy..Mummy..Mum!, Seasider in the City, Super Amazing Mum and Bloggomy, all of whom I have met before and some of them a few times now. It was great to finally meet the woman behind The Crazy Kitchen, she's just as you would imagine! That's good Helen, by the way.
When we arrived we were treated to drinks and a lovely lunch of delicious canapés followed by chocolate brownies. Then it was into the red leather seated screening room to see what the Innotab had to offer with a  live demonstration and then a change to ask further questions about the function of the tablet such as the battery life and the colours available, as we all know this is important to children! The range currently has blue rubber edges but you will be able to purchase pink ones from Argos in September.
The demonstration
Answering any questions
Hanna showing her Mum (The Crazy Kitchen) how to work it
Helen (The Crazy Kitchen) looking very animated…
Kerry (Multiple Mummy) having a go
A very helpful 9 year old boy showing us all how it works
Emma (Mummymummymum) having a go
The retails price for the InnoTab is £79.99. You can purchase Apps online from £2.99 and also software cartridges for £24.99 with some very popular characters, as shown below.
It requires 4 x AA batteries (so rechargeable would be best here) and you can also buy an AC adaptor to power it as well as in car adapters.
It was a great day out in London and a fantastic opportunity to see the prototype and I can't wait for Beastie to finally get a go himself!